Workshop List
Colors Of The Stone Winter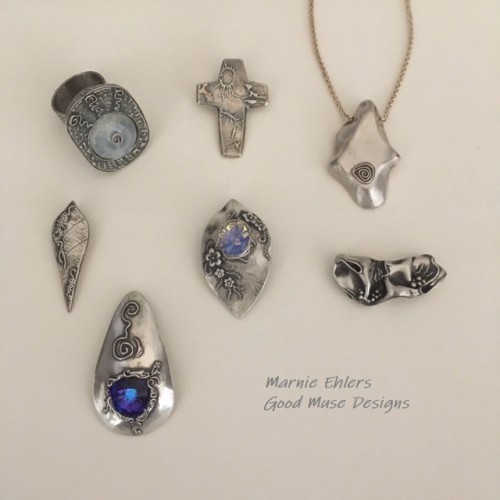 Camp PMC Instructor Course 201
February 6, 9:00am - February 7, 6:00pm (ALREADY PAST)
Precious Metal Clay Class By Marnie Ehlers
Class Fee: $150.00 Increases to $200 after Jan 5, 2020.
Kit Fee: $150.00
Skill Level: Advanced
This two day course is designed to teach students interested in becoming PMC instructors how to hold successful workshops, develop projects and curricula, and to certify students in the Camp PMC Certification Program. Students will learn the fundamental skills of instruction while working through a real world project. Some of the topics addressed will be tutorials, lesson plans, time management, holding attention, pricing, motivational speaking. Practice sessions are also included. For classes paid and registered through this website, cancellations will be refunded in full with three weeks notice. If cancellation is not received with three weeks notice, 50% of class fee will be refunded. No refunds for cancellations under 48 hours. A class kit will be available for pick up for one week after the class if no refund was available (this does not apply to the 50% refund). If cancelling, you must provide the name and email that the class was registered under. Cancellations and refunds for classes paid on another website will be subject to the policies on that website. Finally, students will create their own metal clay project and tutorial based on the guidelines addressed in class. Upon successful completion of the class, students will receive a certificate of completion from Sawtooth School for Visual Art and a 10% discount on PMC clays at Clay Revolution and Rio Grande Jewelry Supply. The designation of PMC instructor will be awarded and students will be eligible to purchase the CAMP PMC CERTIFICATION COURSE 101 curriculum and begin certifying other students. The kit fee is $150 and will consist of 50 grams of PMC 3 to be used in the project, instructor booklet, consumables, as well as the use of classroom supplies and tools including equipment such as kiln, dehydrator, tumbler. SPECIAL INSTRUCTIONS: Students should bring an optivisor or magnifiers. And wear closed toed shoes. A battery powered lamp, and an apron could be helpful as well. Also, those who desire to use additional materials in their project such as stones, embeddables, syringe, etc. are encouraged to bring them to class.
No Available Dates