About
How Three Shows Became One Show
COLORS OF THE STONE • TO BEAD TRUE BLUE • TUCSON ARTISAN WORKSHOPS
To Bead True Blue began in humble circumstances with 7 exhibits. The next year it grew to 50 exhibits, and the year after that, 200 exhibits. It began to attract both local and worldwide clientele, and last year's show had 1000 exhibits.
As a result, To Bead True Blue and its companion the Tucson Bead & Design Show kept outgrowing their venues. In 2018, both shows moved to Casino Del Sol, a Forbes Travel Guide Four-Star Resort and Convention Center. The new 75,000 ft² show room allowed for an additional show --Colors of the Stone. The increased space and modern facilities also allowed for a full-scale workshop production and Tucson Bead & Design Show was rebooted as Tucson Artisan Workshops.
Now, the shows --Colors of the Stone (gem show), To Bead True Blue (bead show), and Tucson Artisan Workshops (an artisan studio show), are woven together into the color and texture of one show with one theme --the handcraft of design.
In this 2019-20 Fall/Winter season there will be 2 yearly productions. After merging, together, the predictions are for the Fall and Winter shows to have a combined 1600 artisan exhibits, galleries, merchants, and workshops, and attract more than 30,000 unique attendees from all around the world, at Casino Del Sol Resort and Convention Center.
Colors of the Stone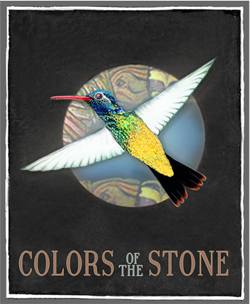 Colors of the Stone is the first major Tucson show devoted to handcraft and design in gemstone and jewelry making. It celebrates the hands on skills used by independent artisans, and small production studio artists --gem graders, cutters, polishers, setters; goldsmiths, jewelsmiths, and lapidaries --who create one-of-a-kind pieces.
It offers the rarest, hand cut gemstones, fine jewelry, unique mineral pieces, crystals, handcut opals, rubies, sapphires, emeralds, jade, garnets, pearls, amber, topaz, lapis lazuli, peridot, onyx, tourmaline, agate, rose quartz, moonstone, carnelian, as well as handcrafted turquoise and coral set in gold and silver.
Colors of the Stone welcomes tradespeople and specialty purveyors who exhibit and sell hard to get rarities such as vintage gemstones, synodic crystals, hard stone carvings, magical gemstone cuts, ethnographic gemstones, antique Burmese rubies, Jizera garnets, ceremonial stones, antique opals and amber, ancient lapis lazuli, carved marble figurines, meteorites, metaphysical items, mineral specimens, fossils, natural crystals, antique carved jet, and mineral figures of excellent quality.
To Bead True Blue
To Bead True Blue has been the Grande Dame of bead shows now for almost 20 years, staying true to offering the finest artisan beads, a complete selection of handcrafted beads, one-of-a-kind bead jewelry, hand knotted strands, lampwork glass beads, bead embroidery, polymer clay beads, gold and silver beads, bead antiquities, and including all jewelry design elements and bead components and findings.
Over the years To Bead True Blue has welcomed bead-related and complementary artisans such as textile weavers, ceramists, clothiers, fiber artisans, fashion designers, tradespeople and bohemian merchants --everyone who is committed to traditional techniques, skills, natural colors and sustainable materials --and create handcrafted design accessories and other artistic useful wares that we use in day to day life.
To Bead True Blue also exhibits unusual, hard to find, artisan antiquities and vintage items, including African trade beads, Afghan kilims, nomadic tribal jewelry, Victorian jewelry, antique textiles, vintage buttons and ribbons, Taxco silver, Roman glass, batik fabrics, embroideries, hand painted silks, painted shawls, and Venetian beads.
Tucson Artisan Workshops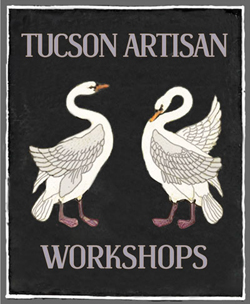 Tucson Artisan Workshops is a living artisan studio incorporated into the gem show -- Colors of the Stone --and the bead show--To Bead True Blue, to promote handcraft arts and support a creative exchange between artisans and attendees. Any attendee with such an interest is encouraged to roll up their sleeves and learn some new skills and techniques in handcraft design.
Tucson Artisan Workshops brings celebrated bead makers, designers and handcraft artists together (we call them artisans in residence because workshops are ongoing every day from early morning until late evening), and as a result, each workshop is a singular experience in the use of traditional tools, skills, and materials.
The types of crafts taught at Tucson Artisan Workshops include beadmaking, jewelry making, gem cutting, textile weaving, glass work, pottery, metal casting, conceptual design, glass work, yarn dyeing felting, millinery, leather working, paper arts, sewing, hand knotting, copper work, gold and silver filigree work, fiber art, wire work, metal clay techniques, bronze work, etching, stone setting, and woodblock print making.