Colors of the Stone • Winter • Jan 27 - Feb 3, 2024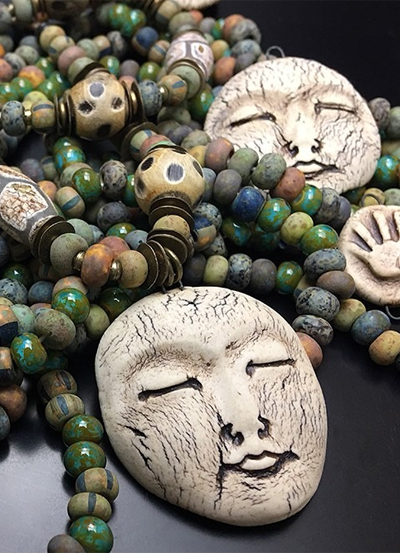 Colors of the Stone with To Bead True Blue and Artisan Workshops showcases the widest range of artisan handcraft in Tucson with 1000 artisan exhibits, galleries, workshops, and ateliers. The assemblage of independent artisans, traditional designers, studio artists, and small production handcrafters, are chosen for outstanding artistic ability, exceptional design and singularity of work. The show is a wholesale source for designers and trades people who are purchasing goods for the purpose of resale --such as jewelry makers, metal workers, bead stores, craft stores, and art galleries. There are 50 established wholesale companies that offer true wholesale pricing on jewelry making and bead making supplies, beads, metals, leather, cords, wire, clay, findings, gemstones; and tools for metal working, diamond cutting, jewelry and bead making. Colors of the Stone with To Bead True Blue also offers the general public an opportunity to meet one-on-one with artists and artisans and buy direct at excellent prices.
Fast Facts
Location: Casino Del Sol Conference Center
Address: 5655 W Valencia Rd, Tucson, AZ 85757
Dates: January 27 through February 3, 2024
Times: 10am to 6pm Jan 27 - Feb 2, 10am to 5pm on Feb 3
Exhibits: 75,000 ft² of exhibit space / 1000 artisan exhibits
Workshops: 500 hands-on workshops offered daily, 8am-9pm
Admission: Open to the public, free admission & parking
Location & Parking
Casino Del Sol is Tucson's premier luxury resort, with the largest Convention Center in Tucson, over 75,000 ft² of showroom space --enough for 1000 exhibits, galleries, and workshops. It is an architectural gem, modeled after a late 19th-century Tuscan village, and nestled in the beautiful Sonoran Desert, minutes from downtown Tucson and Tucson International Airport.
Open to the public with no admission charge. Free unlimited on-site Gem Show Parking, along with complimentary shuttles from downtown Tucson and all major Gem Show parking hubs.
Casino Del Sol • 5655 West Valencia Rd • Tucson, Arizona
RV Hookups available at Casino Del Sol -- See Details