Winter Show in Tucson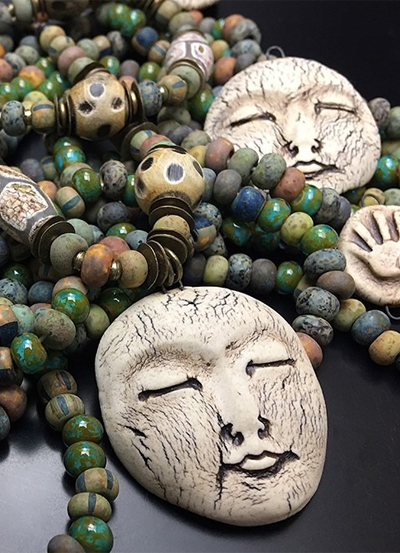 The Winter Show in Tucson has become the best attended and most successful Tucson Gem Show with 1000 artisan exhibits, galleries, merchants, and hands-on workshops. Its clientele includes designers, art curators, jewelry and art magazine editors, jewelry artists, tradespeople --attendees from over 38 countries.
Colors of the Stone is the quintessential Gem Show. It promotes workshop and artisan studio gemcutters, goldsmiths, jewelsmiths, and lapidaries, who produce exceptional, hand-cut gemstones, one-of-a-kind designer jewelry, exclusive mineral pieces, crystals, opals, rubies, sapphires, emeralds, jade, garnets, pearls, amber, topaz, and peridot.
The Winter Show marks the To Bead True Blue 20 year anniversary. It is legendary for offering the finest artisan beads, one-of-a-kind jewelry, hand knotted strands, bead embroidery, lampworked glass beads, polymer clay beads, and beading components such as findings, chain, gemstones, and vintage pieces.
Tucson Artisan Workshops offers 500 workshops in handcraft design. Each workshop has its own uniqueness, and is taught by an artisan in residence, including jewelry arts, beadmaking, metal work, bronze clay, bead design, glass fusing, metal clay, wirework, crystal setting, art silver, chainmaille, hand knotting, mixed media, stone setting, soldering, micro chasing, enameling, photography, beadwork, hand knotting, leatherwork, macramé, kumihimo, and electroforming.
Fast Facts
Held at Casino Del Sol Conference Center
5655 W Valencia Rd, Tucson, AZ 85757
February 1-8, 2020 10am-6pm, Saturday - Saturday
75,000 ft2 of exhibit space with 1000 exhibits
500 workshops offered daily, 8am to 9pm
Open to the public, free admission & parking.
Rooms start at $159, limited to availability.
Book a room by calling (855) 765-7829 - ask for GEM SHOW rate.
Show Details
The Winter Show is comprised of three separate shows --Colors of the Stone, To Bead True Blue, and Tucson Artisan Workshops --which have merged into one gigantic show. Located at the luxurious Casino Del Sol --a Forbes Travel Guide Four-Star Resort and Convention Center, in Tucson, AZ.

The Winter Show presents the work of jewelry, gem, and bead artisans, handcrafters, and merchants. It promotes independent studio and European-style small production workshop artisans. Along with jewelry makers, gemcutters, and beadmakers, there are mineral and crystal dealers, goldsmiths, ceramists, enamellists, sculptors, paper artists, glassworkers, clothing designers, milliners, and textile weavers. The product list is vast, eclectic, and ranges from traditional to contemporary design.

The Winter Show includes Tucson Artisan Workshops with a list of 500 artisan-themed workshops. This is a hands-on experience, an opportunity to take part in a workshop taught by an artist in residence. Subject titles include jewelry making, beadmaking, art silver clay, enameling, wire working, metal work, loomwork, mixed media, fused glass, leather embossing, jewelry photography, found object jewelry, champlevé, bronze metal clay, torch soldering, silverwork, bead weaving, and other categories.
Location & Parking
The location is the largest Convention Center in Tucson, with 75,000 square foot of exhibit space, and unlimited room for additional outdoor tent space that allows the show to expand into the future. Casino Del Sol is an architectural gem, patterned after a late 19th-century Tuscan country village with Spanish tile roofs and wrought iron gates. It is nestled in the sun-filled Sonoran Desert, minutes from downtown Tucson and Tucson International. There are ten excellent restaurants supervised by Executive Chef Ryan Clark, along with several bars and lounges, a world-class spa, and a beautiful amphitheater.
Open to the public with no admission charge. Free unlimited on-site Gem Show Parking, along with complimentary shuttles from downtown Tucson and all major Gem Show parking hubs.
Casino Del Sol • 5655 West Valencia Rd • Tucson, Arizona
Rooms start at $159 / night -- To book a room call (855) 765-7829 ask for Gem Show 2020 rate.
RV Hookups available at Casino Del Sol -- See Details