Three Shows • Casino Del Sol • 5655 West Valencia Rd • Tucson, Arizona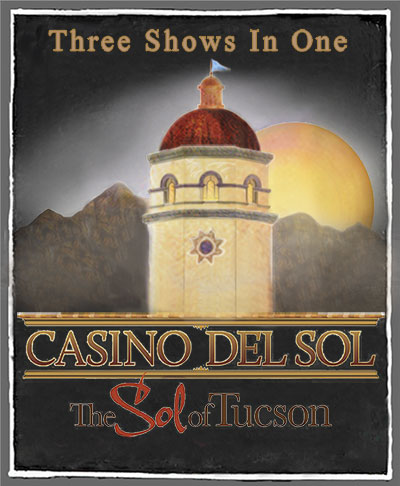 TO BEAD TRUE BLUE joins TUCSON BEAD & DESIGN SHOW and COLORS OF THE STONE at Casino Del Sol, Forbes Travel Guide Four-Star Resort & Convention Center. Combined, the shows host 1000 exhibits and workshops –jewelry makers, beadmakers, textile weavers, ceramists, lapidaries, clothiers, glass workers, enamelists, metalsmiths, mineral dealers, merchants, and wholesale suppliers, who are committed to traditional skills, natural colors and sustainable materials.
All three shows run concurrently, Saturday through Saturday, February 1st - 8th 2020 –eight full days of shopping, workshops, and fun. The shows are open to the public with no admission charge, offer free unlimited Gem Show Parking, and complimentary shuttles from downtown Tucson and all major Gem Show parking hubs.
The location is the largest Convention Center in Tucson, with 75,000 square foot of exhibit space, and unlimited room for additional outdoor tent space that allows the show to expand into the future. Casino Del Sol is an architectural gem, patterned after a late 19th-century Tuscan country village with Spanish tile roofs and wrought iron gates. It is nestled in the sun-filled Sonoran Desert, minutes from downtown Tucson and Tucson International. There are ten excellent restaurants supervised by Executive Chef Ryan Clark, along with several bars and lounges, a world-class spa, and a beautiful amphitheater.
No matter what your passion, this is an interesting and exciting shopping experience, and you might want to take part in one of the 500 workshops taught by artists in residence, in subjects such as jewelry photography, art clay, leather embossing, bronze metal clay, fused glass, wire working, exploring niobium, loomwork, mixed media, found object jewelry, champleve, glass bead making, torch soldering, and copper electroforming.
From professional jewelry designer to hobbyist, with these three shows, shop for handmade gemstones, artisan beads and one-of-a-kind jewelry pieces and buy direct from the artisans and tradespeople who make them –at excellent prices. The product list is vast –discover every possible unusual, rare and hard to find component from the largest wholesale jewelry making supply companies; handmade, individual creations, such as lampwork beads, hand-cut gemstones, upcycled clothing, felted hats, artwear, hand-dyed silks, raku beads, painted linen, hand tooled leather, eco-dyed fabrics, hand-sewn skirts, and handmade textiles.
The list goes on to include antiquities, nomadic artifacts and rare ethnographic objects –there are too many categories and products to list here –but the components that include traditional skills, natural colors, and sustainable materials, give each show an individual form and spirit, and combined, there is no doubt that they offer the widest range of artisan creations to be found anywhere.