Workshop List
Colors Of The Stone Winter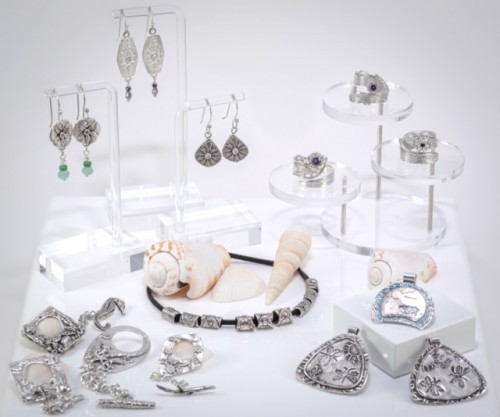 Camp PMC Certification Course 101
February 1, 9:00am - February 2, 6:00pm
February 3, 9:00am - February 4, 6:00pm
Precious Metal Clay Class By Marnie Ehlers, Cathy Flesher, June LeClair, Tanya Lown
Class Fee: $150.00 Price will increase to $200 after Jan 5 2020.
Kit Fee: $150.00
Skill Level: All
In this fundamental two day class you will make 5 projects: a pair of earrings, a pendant, a toggle clasp, a bead, and a ring while learning the basic skills and techniques needed to be successful making your very own sterling and fine silver jewelry using PMC, Precious Metal Clay. Successful completion of this course will entitle you to receive an 8% discount on your future purchases of PMC. Some of the many skills you will learn are: to roll, texture, cut, carve, sculpt, mold, set stones, refine, fire and polish. You will learn how to use a torch and how to program a kiln for the correct firing temperatures to turn your creations into solid fine or sterling silver pieces. Upon successful completion of this course, you will receive a certificate of completion from the Sawtooth School for Visual Art as well as the 8 % discount on o all PMC clays purchased through Clay Revolution and Rio Grande Jewelry Supply. The kit fee is $150 and consists of 20 grams of PMC 3, 25 grams of PMC One Fire 950 Sterling, 5 grams of PMC Flex, 9 grams of PMC Syringe, a pair of sterling silver ear wires, fireable stones, embeddables, tutorial booklet, consumables and the use of classroom supplies and tools including equipment such as a torch, kiln, dehydrator, and tumbler. Students should wear closed toes shoes and, if needed, bring an optivisor or magnifiers and an apron. A battery operated light could be helpful. For classes paid and registered through this website, cancellations will be refunded in full with three weeks notice. If cancellation is not received with three weeks notice, 50% of class fee will be refunded. No refunds for cancellations under 48 hours. A class kit will be available for pick up for one week after the class if no refund was available (this does not apply to the 50% refund). If cancelling, you must provide the name and email that the class was registered under. Cancellations and refunds for classes paid on another website will be subject to the policies on that website.
To register for this class, please click the button below...